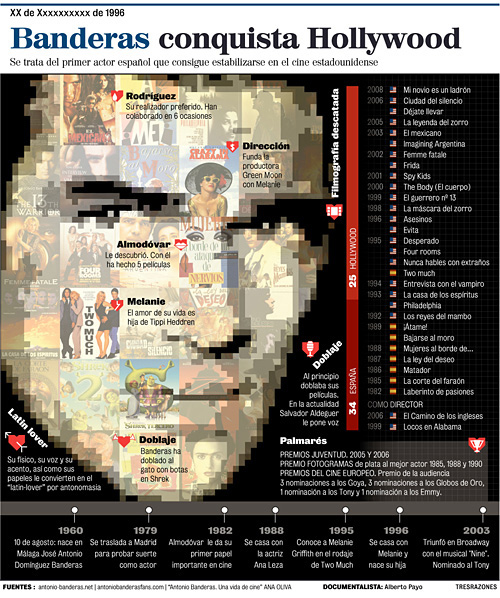 Banderas conquista Hollywood ("Banderas conquers Hollywood") is a bold allusion to pixel art, in which the face of the Spanish actor is built by using the pixelated posters of his movies on a black background.
Therefore, this set of constrasts created in Photoshop offers double information to the reader. At first glance, the reader sees the face of the actor and the data surrounding it as an informative sheet. A second reading, this time with half-closed eyes, shows the film covers and the icons and texts attached to them. The posters have been successively edited until both images have finally remained clear and can be seen by any reader without effort.
The face of Banderas is flanked by a red vertical line, on the right side, which lists the actor's filmography, and by another grey horizontal line, at the bottom, which summarizes his life story.
All the pictograms accompanying the informative texts have been elaborated by using small red hearts, representing the "latin-lover" role played by Banderas in Hollywood.